The United States of America boasts a seemingly endless collection of must-see bucket list destinations. From east coast to west, there is always another sight to behold waiting around every corner across this great nation.
America is also home to some of the most spectacular national parks found anywhere in the world, with each offering their own unique landscapes and natural wonders. We've taken on the unenviable task of narrowing down the 62 national parks found across America to just three that simply have to be included on your bucket list.
Yellowstone
When it comes to America's national parks, you will find Yellowstone at the very top of many travellers' hit lists. Not only is it the oldest of its kind in the world, it is also one of the most popular, attracting 4.1 million visitors a year pre-pandemic. Most of the park is contained within Wyoming's northwest border, but some parts of the sprawling wilderness spill out into Montana and Idaho.
There is so much to love and admire about this special American landmark. The jewel in Yellowstone's embellished crown is 'Old Faithful', the world-famous geyser, so called due to its consistent and predictable eruptions, with around 20 occurring every single day. A larger eruption can send around 8,400 gallons of 95.6°C water up to an average height of 130 feet. Due to the accuracy with which the eruptions can be predicted, you are unlikely to be disappointed by 'Old Faithful' on your visit to Yellowstone.
Zion
The aesthetic of Zion National Park is distinguished by the sheer red rock cliffs, which feature on travel magazines and computer wallpapers all across the globe. This renowned site is found in southwestern Utah and was the state's first national park, earning its status in 1919.
Whilst there is plenty to enjoy here for all types of visitors, Zion is best known for its hiking routes and jaw-dropping landscapes. One of the most revered treks is the Observation Point trail – a testing but highly rewarding eight-mile hike. Navigate your way through the narrow Echo Canyon before emerging at Observation Point over 6,500m high above the sprawling landscape. Voted by Timeout as one of the best hiking trails in America, this is certainly one for the bucket lists of walking enthusiasts.
If that all sounds too much like hard work, there are roads which wind through the Zion Canyon, offering an alternative way to explore the beauty of this region.
Sequoia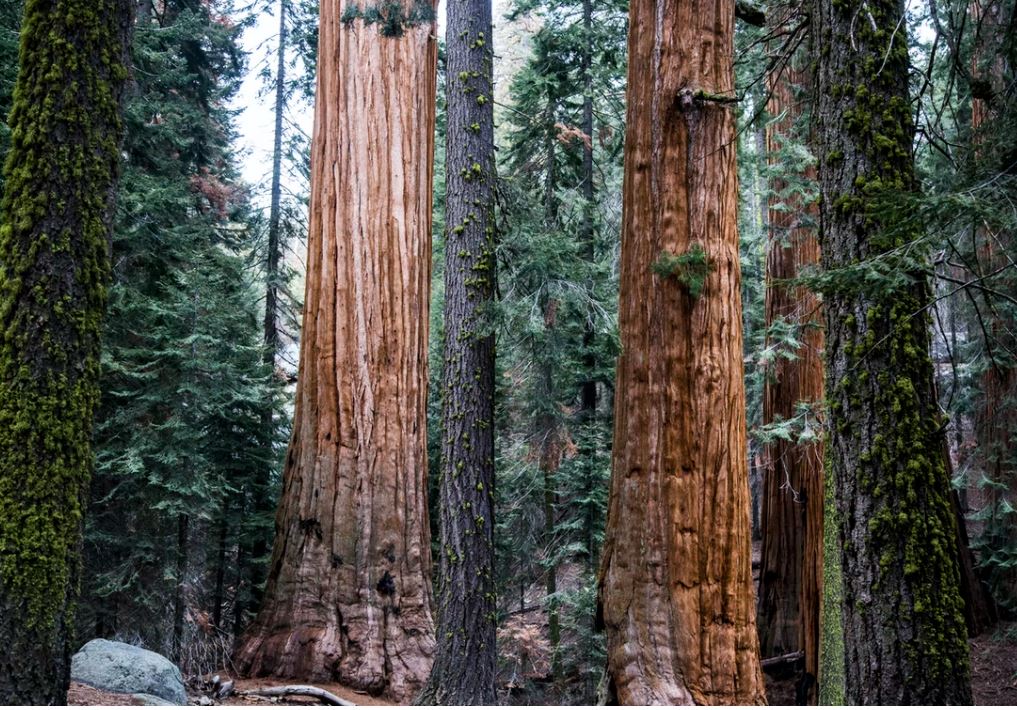 The mystical-sounding Sequoia National Park sits in the Sierra Nevada mountains of east-central California. The park's hallmark is undoubtedly the groves of huge sequoia trees, with the largest of all being the General Sherman tree, which measures 31 metres in circumference at the base and stretches 83 metres high.
The park is best explored by foot, and is tailor-made for hiking. Aside from the General Sherman tree, there are plenty of other natural wonders found within the confines of Sequoia. Whilst it's best known for its skyscraping timber, the park also has plenty to offer below ground, too. Check out the Crystal Cave, filled with stalactites and stalagmites, with the different-coloured minerals putting on a colourful, eye-catching show for visitors.
Summary
Turn to any page in America's catalogue of national parks and you'll find a new stunning landscape destined to be explored. With 62 in all, visiting them all is potentially a step too far. So, we've brought together a list of three parks you simply have to visit, to get a real taste of this country's sheer natural beauty.