The world is vast, and it's waiting to be explored…
Race Across the World is back and searching for intrepid duos, of all ages, ready to take a step into the unknown and embark on an epic race across land, rail, and sea.
On a limited budget and away from the luxuries of modern technology & conveniences, those selected will experience life in some of the world's most beautiful and remote locations. Could you navigate your way across thousands of miles without your smartphone?
Those lucky enough to join the race will travel through spectacular scenery and dynamic cities, visit ancient wonders, learn local customs, and take part in time-honoured traditions. But…the physical journey is only half of the story! Each duo will need to rely on each other, the kindness of strangers, a limited budget and be ready to discover what they could learn about themselves and one another!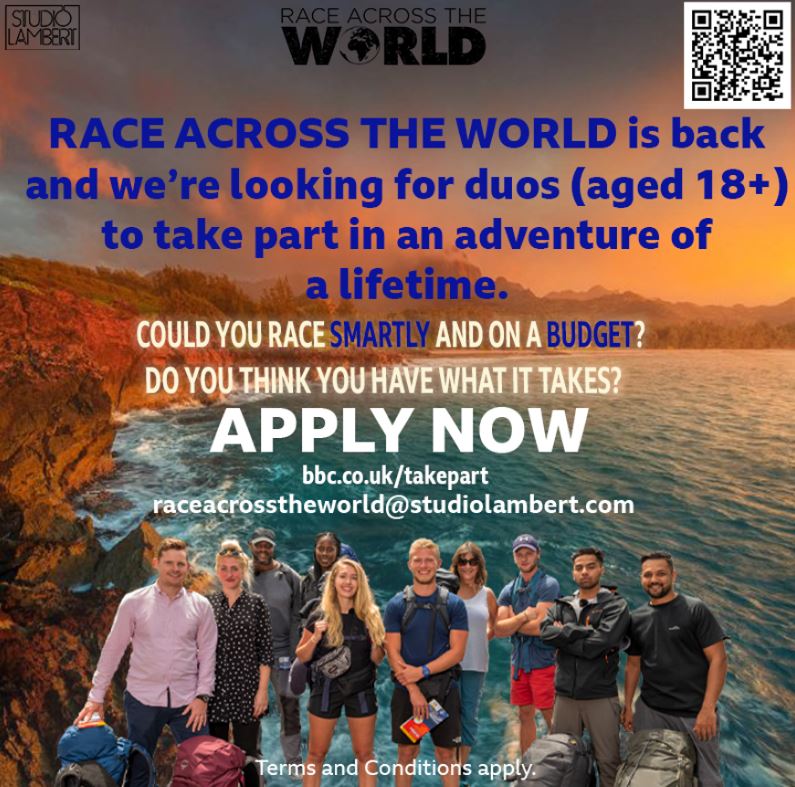 This incredible experience is open to all, whether you're a seasoned traveller or total novice. With a cash prize at stake, we want to know what lengths you would go to reach the next checkpoint in first place!
Click here to find out more and to apply : https://eu.castitreach.com/ag/lambert/ratw4/welcome.html 
Closing date: 14th April 2023. 
Terms and Conditions apply.